Western Australia Branch News: Hot Off The Press for 2023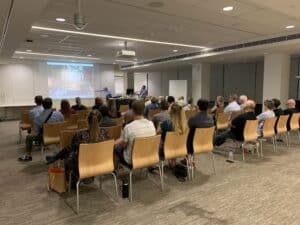 After three years of virtual events, the Western Australia branch has kicked off 2023 with a return to our in-person seminar series.
On Wednesday 22nd March, we were given a glimpse behind the scenes of fire investigations by Senior Fire Investigators Jim Munday and Keith Murray of Fire Forensics. This was a fascinating look at the fact-finding process from a private industry perspective, with attendees even getting the chance to test their own investigative ability through a set of case examples.
We hope to continue showcasing local forensic practice through our seminar series, and also host a wider range of social events such as our 'Campfire Forensics' evenings, which were first launched in the second half of 2022.
Here is a sneak peak of our planned events for the year:
Our Student Representative Group is gearing up for their first in-person event! In mid-May, our student reps will give an overview of the forensic research being carried out at UWA, Murdoch and Curtin University, along with a closer look at their own personal research projects. This is a must-see event for anyone wanting to learn about potential pathways to forensic science research from a student's perspective
In the lead-up to the IAFS 2023 Meeting, we will be hosting an online workshop for those looking to apply for ANZFSS Symposium Awards, with tips and tricks from some of last year's successful awardees
An exciting set of seminar presentations are in the works for the second half of the year, covering a range of topics including humanitarian forensics, fibre analysis, and forensic podiatry
We are always looking for new opportunities to provide value for our members, so please feel free to contact the branch at anzfss.wa@gmail.com or via our social media with comments, suggestions, or feedback!
Facebook: @ANZFSS.WA
Twitter: @ANZFSS_WA