Qld AGM + Branch Presentation
27/10/2022 @ 6:00 pm

-

8:00 pm

AEDT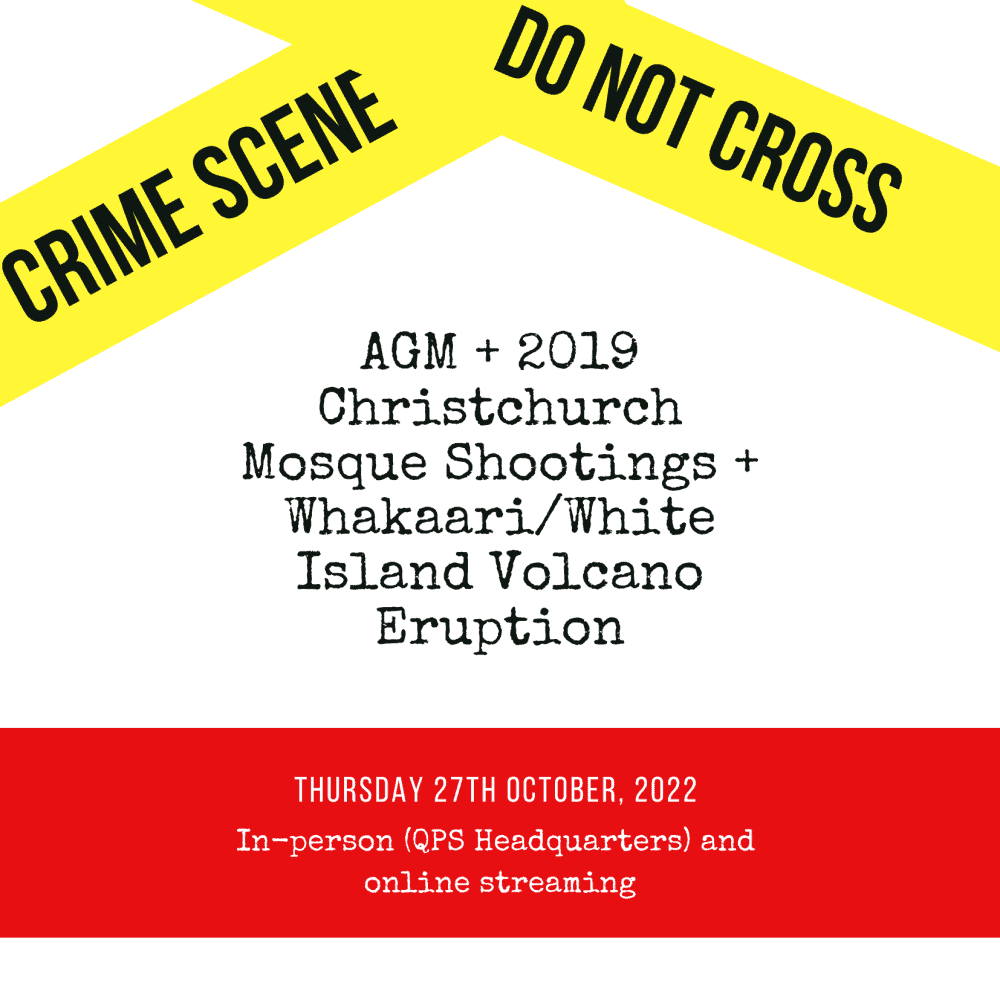 The 2022 Annual General Meeting (AGM) will be held on 27th October 2022 at Queensland Police Service (QPS) headquarters from 6pm. This year we also have Senior Sergeant Gerard Simpfendorfer, the Deputy State Disaster Victim Identification Squad Coordinator for QPS, presenting some notable events he was deployed to.
Presentation: This will be a 90-minute presentation by Snr Sgt Gerard Simpfendorfer's deployment to both the 2019 Christchurch Mosque Shootings and Whakaari/White Island Volcano Eruption. The presentation will focus on the Disaster Victim Identification process. The Christchurch Mosque Shooting section covers the DVI timeline from the date of the incident till the final identifications were presented to the coroner. It covers briefly all the DVI phases with a focus on the Reconciliation Phase were Gerard worked. The Whakaari/White Island Volcano eruption section will be an overview of the incident and will focus on some individual identifications that were presented to the coroner which highlighted difficulties encountered during the process. Several images contained within this presentation depict sudden death scenes and may be disturbing to some people.
Gerard is currently the Senior Sergeant, Senior Business Analyst with the Queensland Police. Before joining the Police 1992 he was a registered nurse who completed his Diploma of Health Science (Nursing) at Charles Sturt University in Wagga whilst working in rural NSW. He then moved to Princess Alexandra Hospital in Brisbane for a few years before joining the Police. Gerard joined the Queensland Police Disaster Victim Identification Squad in 1999 and his first operational deployment was the Childers Backpackers Hostel Fire in 2000. Gerard completed 2 tours of Bali after the 2002 bombing, 1 tour of Thailand after the 2004 Indian Ocean Tsunami, 1 tour of Christchurch after the 2019 Mosque Shootings and 1 tour of Auckland after the 2019 Whakaari/White Island Volcano Eruption. He has been involved in over 30 Disaster Victim Identification operations in his time with the Squad. During this time, he spent several years as both the Ante Mortem and Reconciliation Coordinator for the Queensland Police, a dual role he performed for the Slacks Creek House Fire in 2011. Gerard is currently the Deputy State Disaster Victim Identification Squad Coordinator for Queensland Police. Gerard's most recent DVI deployment was the Banks Creek Plane Crash near Fernvale in August 2022.
Please note this presentation is Copyrighted by the QPS DVI under the following conditions:
Copyright © QLD DVI SQUAD (QPS) 2022
As an attendee viewing this presentation, you are required to abide by the following conditions:
Recording, photography, copying and/or sharing of this information is prohibited by the information owner without prior approval.
For in-person attendance registration: https://members.anzfss.org/booking.php?id=240
For online attendance registration (via  Teams): https://members.anzfss.org/booking.php?id=241 (Please note a QPS, Qld Health or selected Government email address is required. This is a security feature at QPS where this presentation is taking place and is beyond our control. For qualifying attendees, please kindly register by noon October 27th. An email with the presentation link will be sent shortly after.